this night wounds time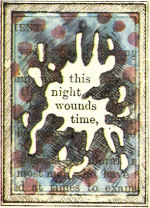 More than 30 years ago I was always puzzled as to what this apparent 'quote' on the back of King Crimson's excellent 'Starless and Bible Black' LP alluded to. What with the age of the Internet, it was very satisfying to finally find out after all this time.
Tom Phillips, who did the album design, had a strange art project running, whereby he drew pictures over the pages of a book, leaving some of the text visible. The book, chosen more or less at random I believe, was called 'A Human Document', which when it had some letters painted out, turned into 'A Humument'. The result is still available to buy: page 222 is where the 'this night wounds time' comes from, though he obviously did another version for the LP, as it is different from the book (click to link to the whole page):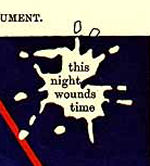 What curious stuff to tease the rest of us with.

[Page last updated: 14 Dec 2009]